Introduction to the Scorecard Web Platform
Introduction
In 2014, ALMA developed an online tool called the Scorecard Web Platform. The tool allows countries to independently create and manage scorecards and actions. The web platform is free for Ministries of Health to use. ALMA takes care of the website's maintenance, upgrades and provides continuous technical support.
Only users with accounts can access scorecard management tools at www.malariascorecard.org or www.rmncah.org.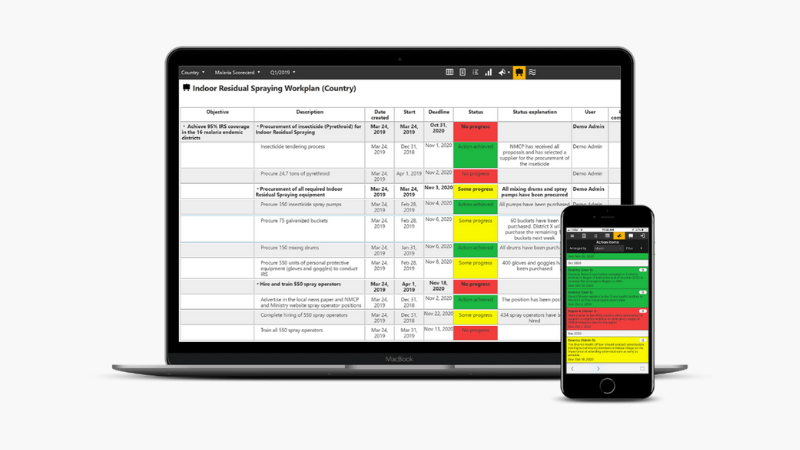 Overview of the features of the Scorecard Web Platform
The scorecard web platform's functionalities can be divided into two categories:
data visualisation
and management functionalities
Data visualisation functionalities
Scorecard
The web platform allows administrators to create colour-coded scorecards that display the performance of indicators at various levels. The colour-coded data visuals offer an easy way to see how indicators and geographic locations are performing relative to the targets set in the strategic plan. While the scorecard one-pager format provides a snapshot of one particular time period in one screen, viewers can also access the subnational view and indicator view to visualize trends through time – across multiple time periods. The subnational view allows users to select one particular location to see the performance of all scorecard indicators across a selected time range. The indicator view allows users to select one indicator, to view its performance across all locations, within a selected time range.
Graphs and charts
The web platform also displays charts, graphs, maps, and other data visuals showing the performance of an indicator over a period of time. Different regions can be compared to determine whether similar areas experience the same trends.
Management functionalities
The web platform includes two useful management functionalities that allow managers at all levels to assign actions and monitor the progress of the implementation of that action. These management functionalities give the scorecard web platform distinct added value and make the system complementary to national health management information systems like DHIS2.
The Action Tracker is used to assign actions with deadlines to action "owners". It includes a progress field showing implementation status and an automated notification system so that it sends automatic SMS mobile notifications to remind managers of deliverables that are approaching or have overdue deadlines.
The Workplan Manager tracks implementation of annual workplans, listing key milestones and the progress of action items with clear owners and timelines. It also has and an automated notification system to alert managers and ministers of urgent bottlenecks.
Mobile phone app
The Scorecard Web Platform is also accessible on mobile phones and tablets on the "Country Scorecard" app and web browsers.
How to access the web platform
Only people with an account can access the system. The web platform is password protected and scorecards are managed by countries – not ALMA. Only national or subnational scorecard administrators in the Country's Ministry of Health can add user accounts
On computers, the scorecard is accessible through most web browsers like Google Chrome and Firefox. The link to access malaria and NTD scorecards is www.malariascorecard.org and the link to access reproductive, maternal, newborn, and child health scorecards, nutrition scorecards, and community scorecards is www.rmncah.org
The scorecard web platform is also accessible through a mobile app called "Country Scorecard" and is available on iPhone and Android phones.
For more information, take our introduction course to the Scorecard Web Platform.