May 2022 newsletter
Sign up for our newsletter
Every two months, we send the ALMA Scorecard Hub newsletter. Sign up to receive all future Scorecard Hub newsletters in your inbox.
Commemorating World Malaria Day 2022
Around World Malaria Day (25 April 2022), ALMA joined partners to celebrate global efforts to end malaria. Here's a roundup of our latest activities.
ALMA hosts a high-level event with the UN Foundation in Washington DC to call for sustained political action and investment against malaria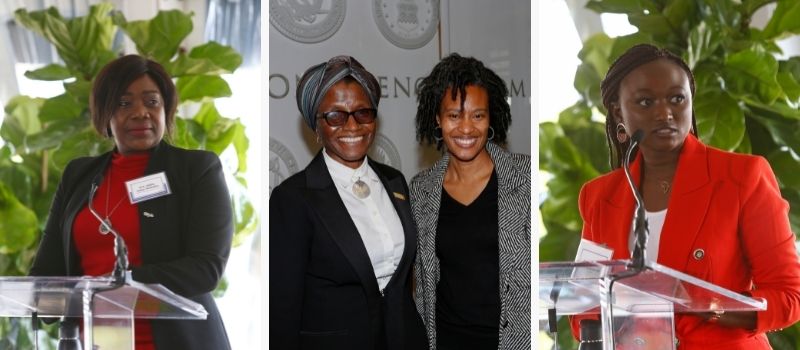 On 28 April, to mark World Malaria Day 2022, the Kenyan and African Union embassies to the United States, with support from ALMA and the United Nations Foundation, co-hosted a high-level event in Washington DC for malaria-endemic countries to engage donor countries in support of the upcoming 7th replenishment of the Global Fund. The event convened high-level diplomats including Ambassadors from African governments, the USA, UK, France, Australia, as well as all major development organisations working on malaria in Africa. The event helped to build momentum for the Global Fund 7th replenishment by celebrating implementing countries' ownership and accomplishments to date in the face of the COVID-19 pandemic while recognising the need to redouble efforts to recover ground in the fight against malaria. It also provided a platform for high-level representatives from donor countries – including the USA, as host of the 7th replenishment conference, to recommit to the fight and save 20 million lives between 2024 and 2026.
Launch of a documentary on the progress made by ALMA during the tenure of His Excellency President Kenyatta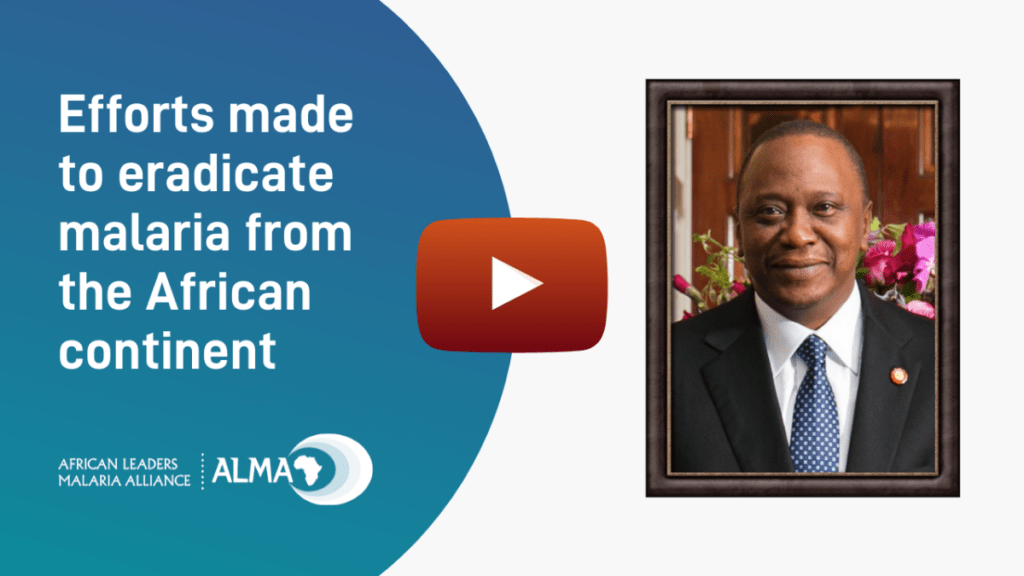 ALMA launched a new documentary this week about the progress made by ALMA during the Chairmanship of H.E President Uhuru Kenyatta of the Republic of Kenya. Watch the video and learn about the achievements under his four-point agenda:
Digitalisation of malaria data through scorecards for accountability and action and the launch of the Hub
Domestic resource mobilisation for malaria programs through End Malaria Councils and Funds
Cross-border collaboration through engagement with Regional Economic Communities (RECs)
Establishment of Malaria Youth Armies to champion youth engagement in malaria elimination
Joy Phumaphi urges leaders from around the world to pledge their support at the upcoming Global Fund Replenishment
In this op-ed published in the Guardian, Joy Phumaphi calls on the leaders of countries around the world to pledge their support for the next replenishment of resources for the Global Fund.
This year's World Malaria Day themes: advancing equity, building resilience and ending malaria come at a key moment in the fight against malaria on the African continent. This World Malaria Day, the African Leaders Malaria Alliance joined the continental and international community to collectively raise our voice in unison to keep malaria high on the political and global health agenda.
ALMA hosts a Youth Virtual Roundtable to mark World Malaria Day
On 22 April, ALMA hosted a Youth Virtual Roundtable on the role of young people to raise awareness of malaria. The webinar aimed to drive conversations among senior leaders and youth on the role of young people to harness the use of real-time data in the fight against malaria at continental, regional and national levels.
Speakers included:
Viridiana Wasike, Head of Partnerships and Resource Mobilization, National Youth Council Kenya
Yacine Djibo, Founder and Executive Director, Speak Up Africa
Dr Donald Apat, Programme Manager, Global Fund Malaria Project, AMREF Health Africa
Vivian Joseph, Health Cluster, Southern Africa Youth Forum, SADC
AYAC member Whitney Mwangi calls for youth-led approaches to improve advocacy for malaria elimination
In a blog post on the Scorecard Hub, ALMA Youth Advisory Council (AYAC) East Africa Co-lead, Whitney Mwangi talks about the importance of aligning commitments and action into the malaria programme and broader health reforms to ensure everyone is involved in attaining the targets set as a continent. She also highlights that the role of youth in keeping leaders accountable goes beyond the malaria-related targets but links to other goals tied to socio-economic issues, such as the African Leadership Meeting on Investing in Health Declaration, which calls for leadership and ownership on domestic financing for health system strengthening in Africa.
AYAC members Richard Dzikunu and Odinaka Kingsley Obeta discuss the role of data in building resilience against Malaria
Reflecting on this year's theme, AYAC members Richard and Odinaka highlight the role of harnessing data to eliminate malaria and save lives.
Strengthening global commitments helps strengthen data-driven malaria institutions. At the local level countries must commit to capacitate young people in contributing to generating national data on malaria (especially in endemic populations), increased surveillance on the quality of available diagnostic tools, antimalarials and use of the updated national treatment guidelines.

Richard Dzikunu and Odinaka Kingsley Obeta, ALMA Youth Advisory Council Diaspora and West Africa Leads
Read Richard and Odinaka's blog post
Youth armies and champions across Africa host events to mark World Malaria Day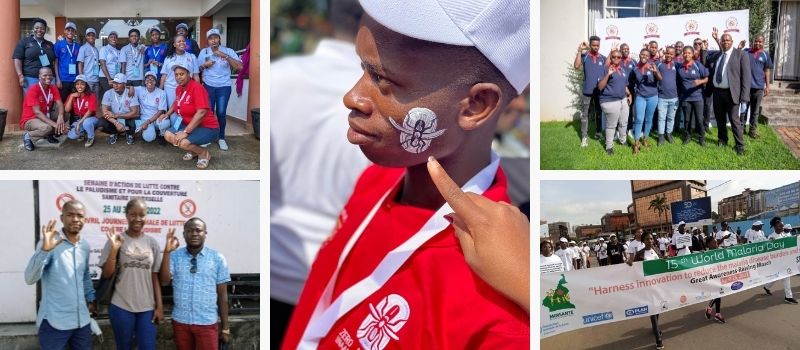 Kenya: Under the support of the national malaria programme, the national malaria youth army brought together 130 young people in a two-day roadshow in four counties as part of the country's World Malaria Day commemoration events.
Tanzania: Malaria youth champions joined the World Malaria Day commemoration under the coordination of the national malaria control programme, including media outreach at community level and recruitment of malaria youth champions through a designated ALMA booth at the event.
Eswatini: The Honourable Lizzie Nkosi, Minister of Health was joined by the Honourable Harris Bulunga, Minister of Sports, Culture and Youth Affairs to launch the national malaria youth army in collaboration with the national malaria programme and End Malaria Fund secretariat during the Word Malaria Day national commemoration event on 27 April. The national malaria youth army will be engaged in diverse areas of action and accountability to support the existing end malaria mechanisms at country level.
Zambia: On 25 April, the malaria youth army champions in Zambia took part in the national commemoration events of World Malaria Day in Kalumbila district, North Western province and was graced by the attendance of the Honourable Sylvia T Masebo, Minister of Health.
Congo: ALMA youth champions in Congo took part in a free malaria screening campaign, in collaboration with the NGO Actions for the Environment and International Solidarity (AESI) and the health facility.
Cameroon: Malaria youth army champions in Cameroon participated in the World Malaria Day march organised by the national malaria control programme with the theme 'harness innovation to reduce the malaria disease burden and save lives'.
Niger: Malaria Youth Army Champions in Niger shared social media advocacy messaging on malaria elimination towards the countdown to World Malaria Day to raise awareness on increasing joint efforts to end malaria as a treatable disease.
End Malaria Councils and Funds commemorate a multisectoral World Malaria Day
Countries across the region continue to work on establishing End Malaria Councils and Funds (EMCs and EMFs). These are country-led and owned initiatives that brings together senior-level, multi-sectoral stakeholders – focused on driving action and accountability, resource mobilisation and advocacy in the fight against malaria.
Here are some highlights from EMCs around World Malaria Day…
Eswatini's EMF supports launch of national Malaria Youth Army
The Honourable Minister of Health, Lizzi Nkosi, announced the launch of the national Malaria Youth Army which will be supported by the Ministry of Health and End Malaria Fund.
Guinea becomes 10th African country to announce an EMC
On World Malaria Day, the Honourable Minister of Health from Guinea announced plans to establish a national End Malaria Council. This country-led initiative, supported by ALMA, has been developed in record speed – demonstrating strong political will.
Kenya's EMC signs MOU with SC Johnson
The council and SC Johnson have signed a 5 year memorandum of understanding to support the fight against malaria in Kenya. It includes increased funding for social and behavioural change communications, vector control, and promotion of local manufacturing for malaria and other health commodities.
Mozambique private sector coalition announces $7 million USD in fight against malaria
Mozambique's Fundo da Malaria, along with Goodbye Malaria, hosted a donor conference to announce new private sector contributions. The contributions will help community-based malaria control projects, distribution of LLINs, community mobilisation and sensitisation, and protecting children from malaria.
Ugandans ride for malaria control
Malaria Free Uganda, the country's EMC, hosted a series of events in the lead up to World Malaria Day. In March, the EMC launched the Zero Malaria Business Leadership Initiative (ZMBLI) in partnership with Speak Up Africa and Ecobank. Ecobank pledged $100,000 USD in matching funds to support private sector resource mobilisation.
Following upsurges in malaria cases from increased rainfall, Gov. Ken Mugisha (Chair) and Dr Jimmy Opigo (NMCD Programme Manager) raised the visibility of malaria in an hour-long programme on national TV.
Uganda also held its second-annual bike race to end malaria. Hundreds of riders participated along with members of Malaria Free Uganda, the Malaria Rotarian Partners and the Ministry of Health.
Zambia's EMC engages private sector and pledges to support construction of a health facility
50 private sector business leaders were convened by the EMC to discuss the need to control and eliminate malaria in Zambia. In a later event, the Honourable Minister of Health thanked the EMC for its contributions and encouraged those attending to support the construction of a new district hospital in Kalumbila.
Learn more about how End Malaria Councils and Funds commemorated World Malaria Day.
View the latest scorecard postings
The ALMA Scorecard Hub is the only platform with a public directory of scorecards shared by African countries. 14 countries have already shared their scorecard management tools on the Hub – with over 180 scorecards on the site.
Sign up for our newsletter
Every two months, we send the ALMA Scorecard Hub newsletter. Sign up to receive all future Scorecard Hub newsletters in your inbox.
Sign up for our email newsletter